Cataract Surgery in Ranchi, Jharkhand
100% Safe, Painless, Stitchless and Bladeless Cataract surgery in Ranchi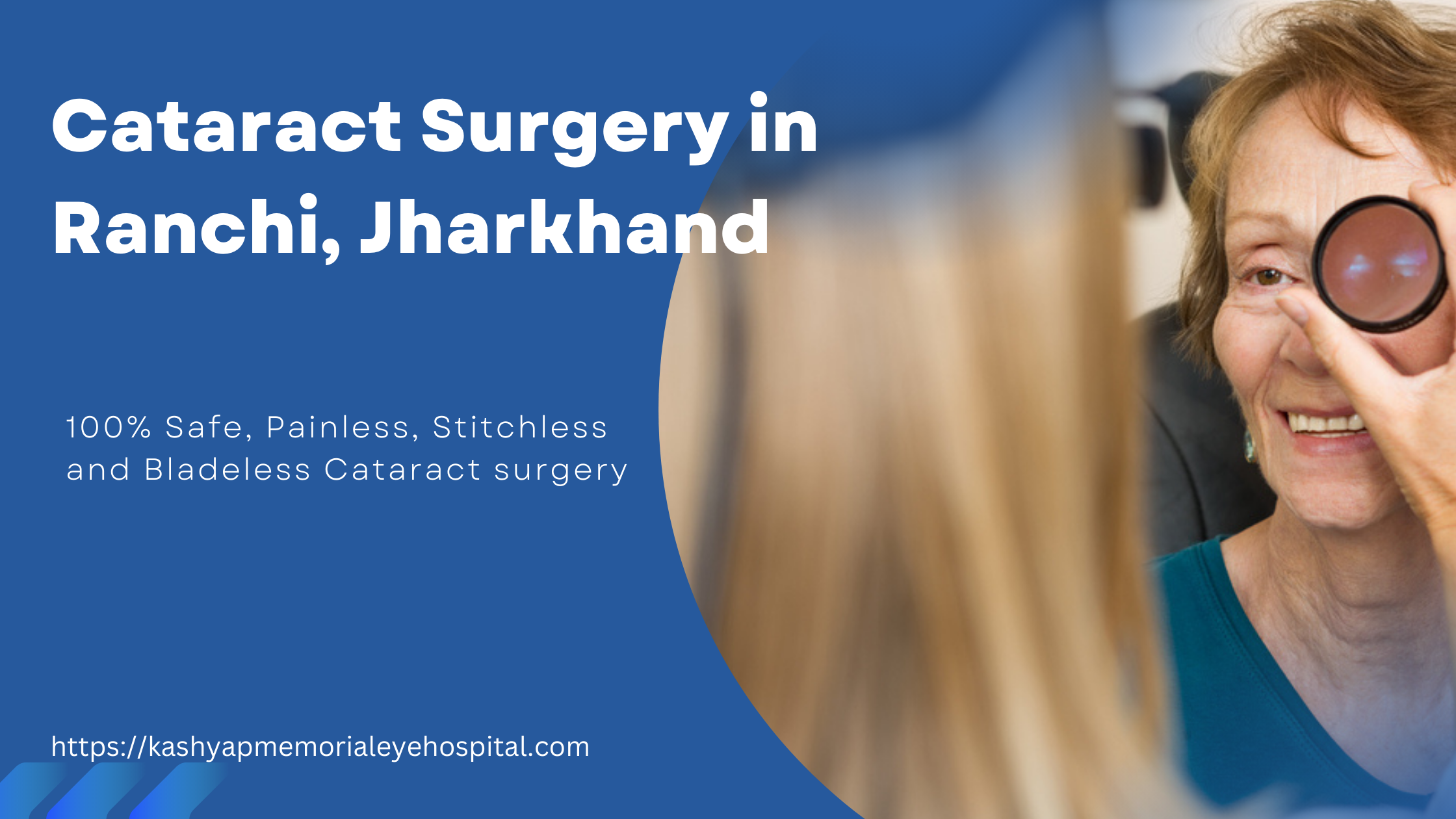 Before going to the process of Cataract Surgery, let us first understand what Cataract is. A cataract occurs when the natural lens of your eye becomes cloudy. Proteins in your lens deteriorate, causing things to appear blurry, hazy, or less colourful. Cataract surgery is a procedure to remove cloudy lens from your eye. Once the lens is removed after that surgeon will place a new lens in its place. It is usually performed as an outpatient procedure, which means you need not stay in hospital full day. This surgery is quite brief, taking ten minutes to complete the procedure.
Symptoms Of Cataract:
There can be many symptoms of cataract - Cloudy Eye Lens, Double Vision, Blurry Vision, Trouble Seeing at Night Time, Changing of Prescription Glasses frequently, Halo Appearing around Lights etc.
Best Hospital For Cataract Surgery in Ranchi:
Many eye hospitals for cataract surgery in Ranchi, Contacare Eye Hospital, Kashyap Memorial Eye Hospital. Kashyap eye hospital is one of the best hospitals in Cataract treatment in Jharkhand over many years. We use the following technologies for the treatment and surgery of cataract since 2015. We boast to be one of the most risk-free, fastest and accurate to treat our patients over the years.
Top Cataract Surgeons in Ranchi:
At Kashyap Memorial Eye Hospital, we are proud to have three generations of ophthalmologist. We also have the most qualified as well as experieced doctors and staff. Our specialist doctors for the treatment of Cataract are:
1. Dr. Bibbhuti Kashyap (MBBS, MD, DNB, MNAMS, FRCS, MRCSEd): Dr. Bibbhuti Kashyap specialises in RETINA, UVEA, ROP, CATARACT & REFRACTIVE SURGERY SERVICES.
2. Dr. Nidhi Gadkar (MBBS, MS (Gold Medalist), D.N.B): Dr. Nidhi specialises in CORNEA, CATARACT & REFRACTIVE SURGERY SERVICES.
Cataract Facilities in Ranchi:
We provide best cataract facilities in Ranchi for patient's care, using latest technology and equipment NCT Tonometer, Humphrey Field, Yag Laser, Phaco Machine, Post Operative Care etc.
The special features of our Cataract Treatment are as follows:
1. Femtosecond Laser (LenSx®): The use of the femtosecond laser (FSL) in cataract surgery may represent the most significant advancement in the field since phacoemulsification's inception.
The FSL in cataract surgery has several significant potential advantages over traditional manual cataract surgery.
More precise and faster Effective phacoemulsification time is reduced - Less energy means less damage. corneal incisions that are precise and repeatable Management of Refractive Power Capsulorhexis is flawless. Patients with Fuchs' endothelial dystrophy, pseudoexfoliation, a history of trauma, or brunescent cataracts benefit the most from this technology.
2. Phacoemulsification(CENTURION® Vision System): The latest phacoemulsification technology, the CENTURION® Vision System, optimises every step of the cataract surgery procedure. It benefits in the following ways: Increased anterior chamber stability throughout the procedure. Enhanced energy technology Improved fluidic management Surgical accuracy
3. The LuxOR™ LX3: The LuxORTM LX3 with Q-VUETM Ophthalmic Microscope is part of The Cataract Refractive Suite, a one-of-a-kind combination of cataract refractive surgery technologies. VERION Image Guided System increases precision and efficiency during surgical planning and execution and improves cataract surgery.
Kashyap Memorial Eye Hospital is one of the top cataract eye surgery hospital in Ranchi at low cost by expert doctor.